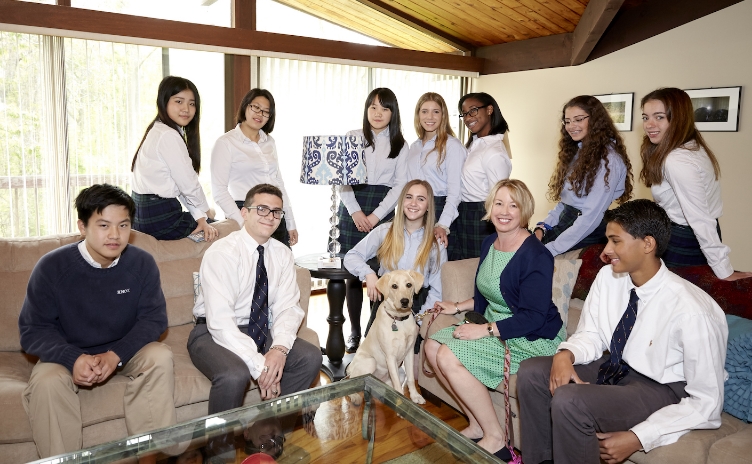 A Message from the Head of School
Welcome to The Knox School, where we have a long history of educating young people and teaching them to live their very best lives.
Students at The Knox School thrive in a small, supportive environment where their intrinsic motivation is cultivated, allowing them to grow into young adults who are well rounded, global and critical thinkers. Whether you are an aspiring artist, designer, scientist or mathematician, a Knox education will prepare you for life beyond our campus.
Knox students are taught to have a strong moral compass and develop a sense of empathy for others that drives their involvement in service on a local, regional and global level. They learn that an extraordinary work ethic is the key to success. With the Total Care Education System in place at Knox, all aspects of our students' development are covered in our programming.
Academic growth is pursued by teaching students to always strive for more, to ask difficult questions and seek knowledge beyond the classroom. Many Knox students participate in the Beacon Program for college credit and attend summer programs to broaden their experiences in preparation for university studies.
Social and emotional growth is monitored and nurtured through advisory, clubs and monthly men and women's group meetings. Weekend activities and family-style dinners are the catalysts for the development of life-long friendships. A healthy mind provides young people with the availability to learn and explore the myriad of possibilities life has to offer.
Physical growth is cultivated through competitive sports, non-competitive sports, and physical education. Knox students are often found hiking the local trails, rowing on our beautiful harbor, riding a horse in our newly renovated barn, playing basketball and walking the beach on the weekend. Our fitness center is a central hub not just for our Elite athletes, but for everyone in the School to enjoy.
Knox is a community of people with similar mindsets who work together to achieve our common goals. Our faculty are not just teachers, but are also mentors to our student body, and you will often hear students describe their relationships with each other and the faculty and administration as family. We support each other in our successes as well as our failures. Our community is a safe haven for students to learn and grow and because they feel safe, students flourish in all pursuits. They develop the courage to try new things and find out that they have talents in areas they never imagined.
I urge you to join a community where more than a century of traditions run deep and where the opportunities are endless. Being a Knox student will change your life in ways you cannot imagine. Seeing is believing – join our community today.
Head of School
ktillona@knoxschool.org
(631) 686-1600 x 415