Learn about what a Knox education can do for YOU!
Register for one of our virtual events or schedule an on-campus tour.
For questions, please contact the Admissions Office at admissions@knoxschool.org.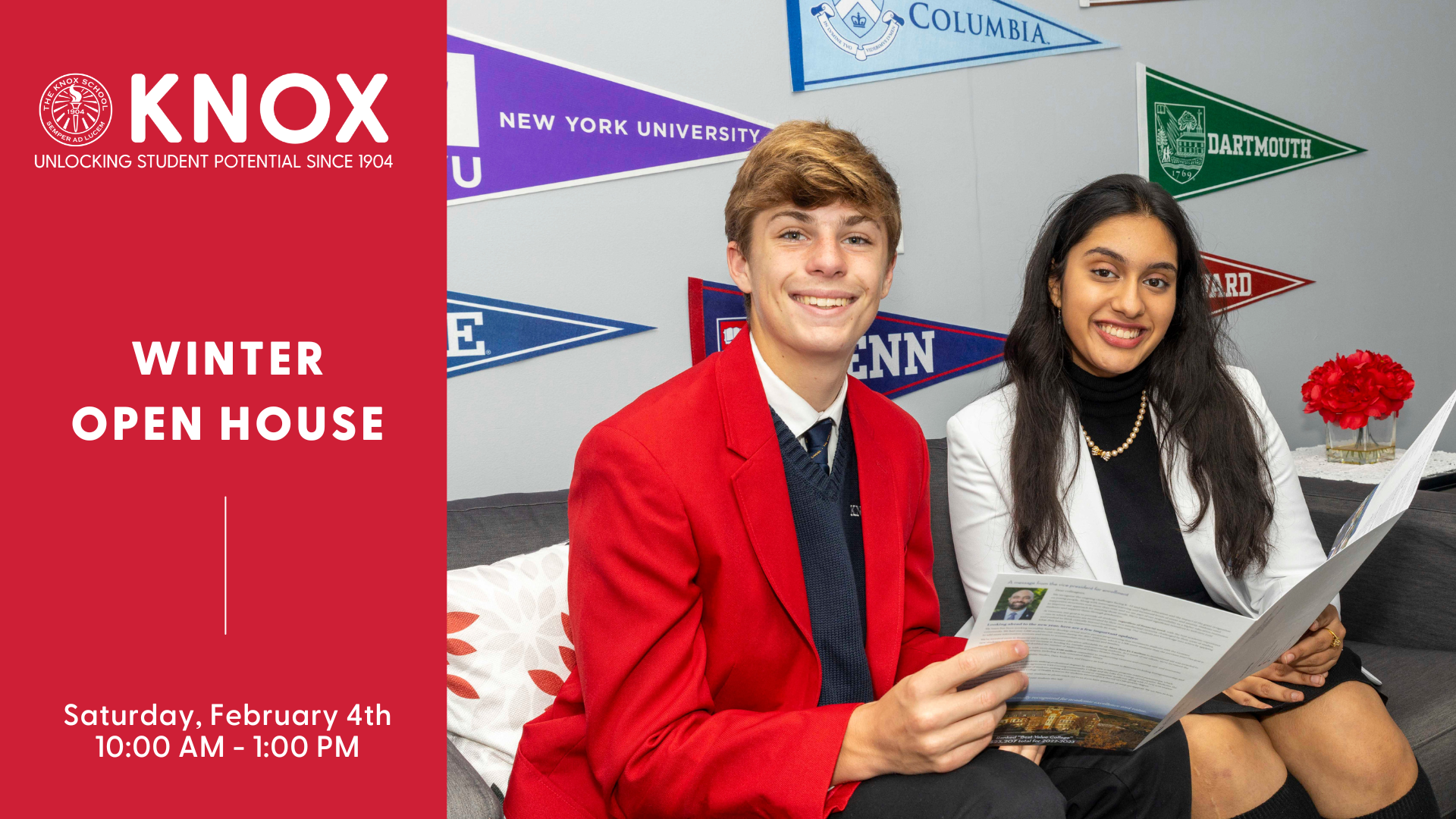 WINTER OPEN HOUSE
The Knox School is pleased to invite you to our beautiful, waterfront campus for our annual Winter Open House. Meet School leaders like the Head of School, Dean of Academics, and Director of Athletics, meet knowledgable Student Ambassadors who will take you on a tour, and learn about our vibrant arts, student life, and campus programs designed with YOU in mind.
Reserve a Spot TODAY!

Join our live webinar and learn about The Knox School's boundless programs designed with YOU in mind. Our friendly staff will present information about Knox's rigorous College Preparatory Academics, Stress-Free College Counseling, Competitive Athletics, Dynamic Arts, and multicultural Student Life community. Guests will receive answers to any questions they may have about The Knox School or the application process.
We look forward to meeting you soon!
VIRTUAL WEBINARS
With Knox Leaders
Knox invites you to view the recordings from our recent Virtual Open House Week. Simply click on the video links below to learn about the vast array of opportunities that will allow students to unlock and maximize their potential.
"The Student Experience"
Hosted by Head of School Virginia Riccardi
"Academics & College Counseling"
Hosted by Dean of Academics Donna Pergola
and School Counselor Stephanie Kilgannon
"Athletics"
Hosted by Asst. Athletics Director Christian Vazquez
"The Arts"
Hosted by Chair of Visual & Performing Arts Karyn Cernera Bush
"STEM"
Hosted by STEM Director Angelo Mauro
Can't Make it to Our Beautiful Campus?
Take a walk around our picturesque, waterfront grounds, peek into our classrooms, visit our campus gallery, see our dormitories, visit the equestrian center, and more, in our new Virtual Tour!